How Fat Cat Art pieces are made:
Fat Cat Art is an innovative art project that integrates painting, photography, and digital art.
The artist Svetlana Petrova takes photos of her cat Zarathustra when he chooses to pose.  She makes special photo sessions which look like shooting a fantasy movie on a green screen, with Zarathustra as a star.
Then she photoshops the cat into a famous painting's digital image. The artist paints a lot in the computer, applies complicated techniques. Finally, the cat fits a masterpiece perfectly, as if he was always there, and the new piece of Fat Cat Art is created.
The result is a high resolution multi-layered digital image that is an original Fat Cat Art piece. This digital creation can appear in real life in multiple ways: it can be printed as a canvas print or poster, or the artist can paint it manually with oil colors as old masters did, or create a mixed media artwork – a digital painting.
All the process of printing is made under the strict supervision of the artist, that guarantees quality and correct color rendering.
Posters are printed on a special matte 200 g/m thick paper using eco-friendly latex inks.
Latex printing technology combines outstanding quality with high environmental standards. Latex inks are water-based, odorless, they don't contain any harmful substances. At the same time, prints are highly resistant to various external influences, such as direct sun, temperature extremes, water etc
High flexibility of the ink prevents cracking and crumbling of the color during the transportation and maintenance of the posters. Posters by FatCatArt are long live, beautiful and eco-friendly.
You receive poster rolled and packed into a hard tube.
We print our fine art prints on natural 400 g/m cotton canvas,
The canvases are printed using "giclee" technique –a technique created especially for making prints of large format artworks. We print on the Epson Stylus Pro inkjet printer, which was invented specially for high quality, eco-friendly printing of images for interior design.
We use only Epson cartridges with natural pigment inks. These ink don't tend to channel off which provides us with high definition and contrast prints.
The pigment, i.e.  the color matter of the inks, has very high rates of fastness and durability – fade resistant guarantee: 118 years.
After printing, our canvas prints are covered with acrylic varnish, like true paintings, and they look very close to them
Then a printed canvas is stretched over a stretcher frame.
A Fat Cat Art print is certified by the artist's signature.
Basements for digital paintings are printed on natural 400 g/m linen canvas for painting, primed and coated with the special composition for printing. Usage of the canvas for paintings instead of usual canvas for printing is needed because the artist then paints over the print. We print canvases in "giclee" technique and then stretch them,
Then the artist finishes a canvas of a digital painting manually. She recreates brush strokes using acrylic texture gels and oil colors. The resulting digital painting seems to be real painting by a master of the past as if a painter really featured Zarathustra the Cat in it.
Digital paintings need a lot of time and skillful handwork to be produced. Brush strokes of the artist make them unique pieces of art. That is why they are way more expensive than canvas prints.
Digital paintings are certified by the artist hand signature and a special document – a certificate of authenticity
We suggest 3 variants of stretching for our fine art canvas prints:
1.Museum wrap
Museum wrap is the most common way of stretching canvas. The staples are on the side of the stretcher bar. They should be covered by a frame afterward. We advise you to choose this method of stretching if you are planning to put your print in a frame.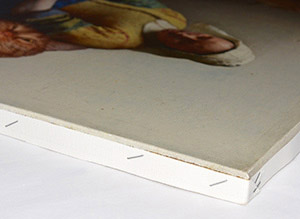 2.Gallery wrap
Gallery wrap is the method of stretching canvas when the image wraps around the edge of the stretcher frame. The canvas is secured to the stretcher bar by staples applied on the back side of it. Thus the sides of stretcher bars are covered by an image in style of the artwork, and it will look fine without a frame. We advise you to choose this method of stretching if you are not planning to put your print in a frame.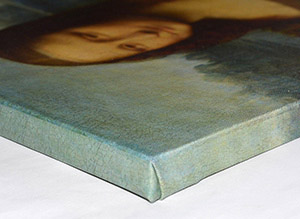 3.Without stretching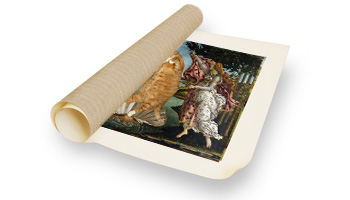 Without stretching. In this case, prints are shipped rolled up in a rigid tube. You can stretch your print in any atelier nearby. The canvas will include an additional white border enough for stretching it.
All of the digital paintings are already stretched (museum method) because the artist works on the stretched canvas. You should put digital painting in a frame on your choice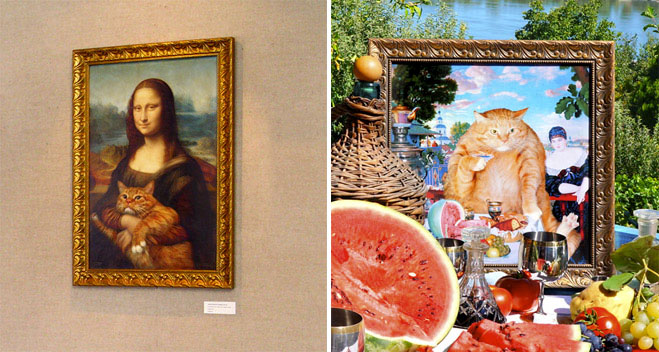 What about framing?
Usually, we don't supply frames for digital paintings and canvas prints; you can find them in any framing atelier closer to your place on your own taste.
Moreover, large and medium sized framed artworks shipping is way more expensive that shipping of them non-framed, because of weight and need for extra packing.
If, nevertheless, you would like to get your print already framed, please contact us, we can help you and get it framed at our partners.