Product Description
Article - Digital painting
Title:  Johannes Vermeer, The Kitchen Maid and the Cat
Author: Svetlana Petrova and Zarathustra the Cat (FatCatArt.ru)
Technics – mixed techniques – fine art inkjet digital printing, oil and acrylic painting
A digital image file, created by the artist on computer, is printed on natural canvas for painting using "giclee" technique. We use only natural pigment inks. These inks don't tend to channel off which provides us with high definition and contrast prints. The colour matter of the inks, has very high rates of fastness and durability, the inks are highly light-resistant (118 years of guarantee).
Size of the digital painting is the same as the original size of the painting used as the basis of the artwork.
After printing the artist finishes the printed canvas manually: using acrylic texture gels and oil colours she recreates brush strokes.
The resulting digital painting seems to be real painting by a master of the past, as if a painter really featured Zarathustra the Cat in it.
This technique looks undistinguishable from the real painting.
Material
Natural 400 g/m linen canvas for paintings, natural pigment archival inks for printing, acrylic gel, oil
Size
Painting size: 45,5 х 41 sm, which is equal to the original size of Johannes Vermeer, The Kitchen Maid, exhibited in State Museum in Amsterdam
Stretching method: museum wrap   
For more info about the artwork please read  FatCatArt.ru blog
Certificate of authenticity:
Each digital painting is unique piece of art:  it is finished manually by the artist.  Two signatures prove the authenticity of each digital painting:
- Electronic signature and the date of the last update of the file. It is a part of an image file and is printed along with the image. As FatCatArt works are computer collages they are constantly changing: the artist can change details, color appearance, update the original painting image or change the cat's photo.  Thus the date indicates a version of the piece of art, which is important for the art collectors.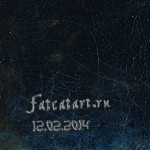 - Hand signature of the artist next to electronic one.
Package: hard cardboard box
Price: upon request