Svetlana Petrova & Zarathustra the Cat.
"FAT CAT ART: Famous Masterpieces Improved by a Ginger Cat with Attitude"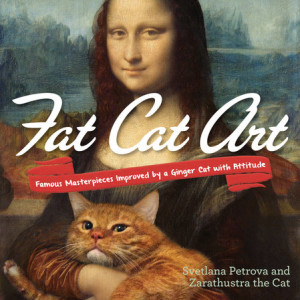 The book in English, 304 pages, with 150 pictures
Published by Penguin Random House (USA)
Available worldwide!
Links to buy worldwide:
Amazon.com
Amazon UK
Amazon Germany
Amazon France
Amazon Japan
Barnes & Noble
Indiebound
Books-a-Million
Translations in other languages:
Fat Cat Art book in Chinese 肥猫艺术课
Fat Cat Art book in Japanese ファット・キャット・アート
Fat Cat Art book in Korean 고양이 자라투스트라는 이렇게 말했다
The book's page at the Penguin Random House site
"It's official. That thing that classic art has been missing is a chubby reclining kitty."

—The Huffington Post
Internet meme meets classical art in Svetlana Petrova's brilliant Fat Cat Art. Featuring her twenty-two-pound ginger-colored cat, Zarathustra, rightfully restored to some of the greatest artworks of all time, Petrova's paintings are an Internet sensation. Now fans will have the ultimate full-color collection of her work, including several never-before-seen pieces, to savor for themselves or to give as a gift to fellow cat lovers.
From competing with Venus's sexy reclining pose (and almost knocking her off her chaise lounge in the process) in Titian's Venus of Urbino, to exhibiting complete disdain as he skirts away from the pointing finger of God in Michelangelo's Creation of CAT-dam, Zarathustra single-handedly rewrites art history in the way only an adorable fat cat can.
Shop it at Amazon.com: